INTEGRATED PRODUCTION AND INNOVATIVE SERVICES
Autonomous integrated production by managing a large amount of partial processes in order to achieve a maximum of quality and precision control – this is the basis for an innovative manufacturing of hydraulic cylinders in accordance with the Hoven philosophy. Controlled by continuous quality management with processes certified according to DIN EN ISO 9001. And additionally certified according to DIN EN ISO 3834-3 for all essential welding processes.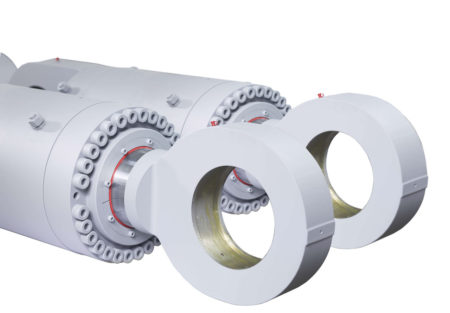 Our machine park complies with the requirements as we provide a pressure range of up to 700 bar, piston diameters of 32 to over 1000 mm, a stroke of up to 10,000 mm and a weight of up to 20 tons. We solely employ first-class components and materials for our products – also when thinking of gaskets that are purchased from Trelleborg, Chesterton, Merkel and other top-manufacturers.
We carry out customer-specific controls according to the specified standards of the certifying instances and provide for compliance with all relevant security and test specifications including ATEX, NEMA, CSA and UL.
All production stages are documented by comprehensive technical records – a special service forming an integral part of our order processing. Each cylinder supplied will be subjected to a final hydraulic test run. The test certificate for the hydraulic cylinder is available on request, as well as a detailed documentation.
Moreover, Hoven Hydraulik has extensive experience in the service area, too. Besides competent customer support we estimate reliable and flexible service assignments as a very important issue.